On November 19th, the Cumberland River Compact and Friends of Warner Parks organized a volunteer event to plant more than 100 trees in Edwin Warner Park. The planting event was held as part of the Compact's Fall Planting Party in support of their Root Nashville campaign, whose goal is to plant half a million trees in Davidson County by 2050.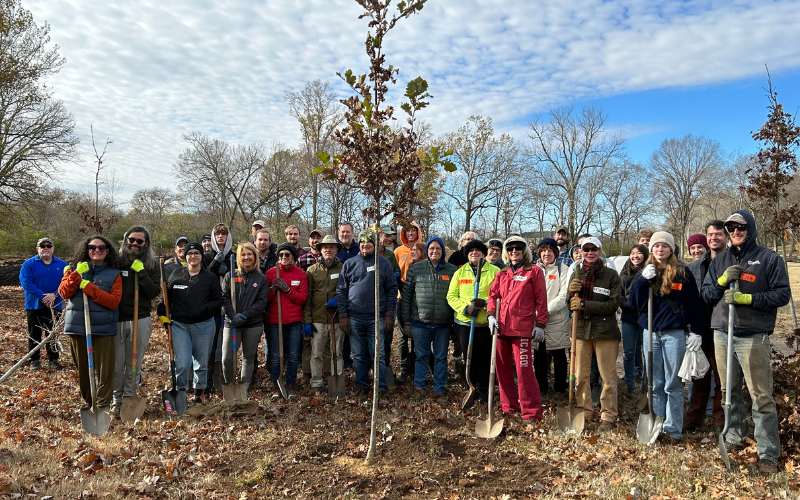 The tree planting event was part of the Edwin Warner Park Land and River Restoration Project, a collaborative effort between Metro Parks and Recreation, Metro Water Services, Cumberland River Compact, and Friends of Warner Parks to restore the riparian buffer zone along the Little Harpeth and improve the deterioration and erosion of the riverbank.
During the event, 40 volunteers planted 123 native hardwood trees along a riparian buffer in the park. Trees planted at the site will effectively stabilize the riverbank, slow the flow of runoff in the area, and reduce the rate of erosion.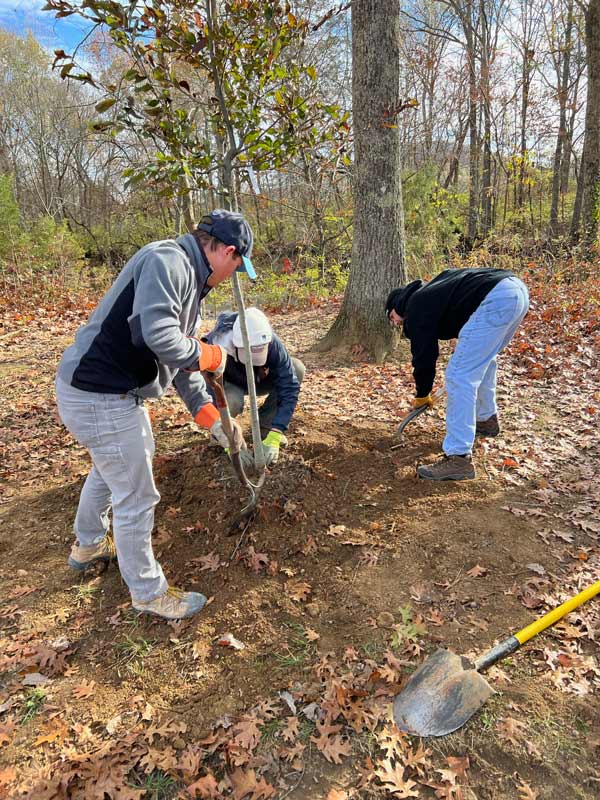 "This is a restoration project we have hoped to accomplish for 20 years," said Jenny Hannon, President of Friends of Warner Parks. "We are proud to make a collective impact with these organizations that will benefit the health of our riparian ecosystems for years to come." 
The Edwin Warner Park project began in May 2022 with the removal of 3 picnic shelters and associated asphalt drives along the Little Harpeth River. Since the spring, 64,000 square feet of asphalt have been removed from the area and replaced with remediated soil, trees, and native plant species. These efforts will help to decelerate runoff and mitigate erosion in the area, improving the floodway and restoring integrity to the riverbank.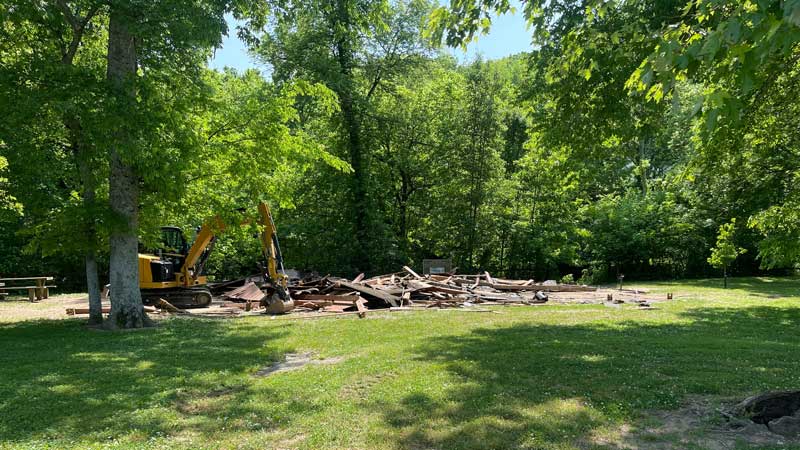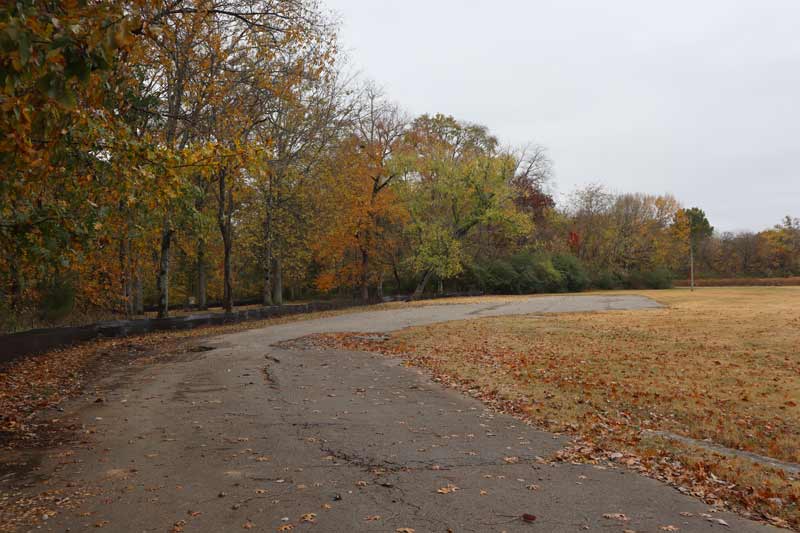 Mekayle Houghton, Executive Director of the Cumberland River Compact, stated: "This project will significantly improve water quality and habitat in the Little Harpeth River. It is the result of patient and collaborative project planning from many partners."
This project will continue in 2023 with plans to:
Rebuild and relocate park shelters #9 and #10 away from the floodway. Shelter #9 will be expanded with ample green space for special events up to 300 people
Establish a tree and buffer planting maintenance plan to continue monitoring the area
Develop specific access points for the public along the Little Harpeth River to protect restored bank areas
Execute a comprehensive water assessment in Warner Parks streams, springs, ponds, vernal ponds, wet weather conveyances, and riparian zones to protect and enhance other riparian buffer zones in Warner Parks
"After years of dreaming, discussions and planning, this project is well on its way to repairing the land and restoring the riparian zone for a healthier waterway and more beautiful park," said Cammie Claybrook of Warner Parks.
Read more about the Edwin Warner Park Land and River Restoration Project in Nature News.
You can support this project with a Warner Parks membership, donation, or by volunteering your time.