A History of Warner Parks
Warner Parks' Legacy—A Century in the Making
1910
Percy Warner Park, the first of our Warner Parks, opened to the public in 1927, but its origins date back to 1910 when Luke Lea was the controlling stockholder of the Belle Meade Land Company that purchased approximately 1,600 acres for residential development from the Belle Meade Plantation bankruptcy sale.
Luke Lea was married Mary Warner, the daughter of streetcar and utilities magnate Percy Warner in 1906. Luke Lea and his father-in-law were known as bold-thinking men of like minds when it came to the development of Nashville.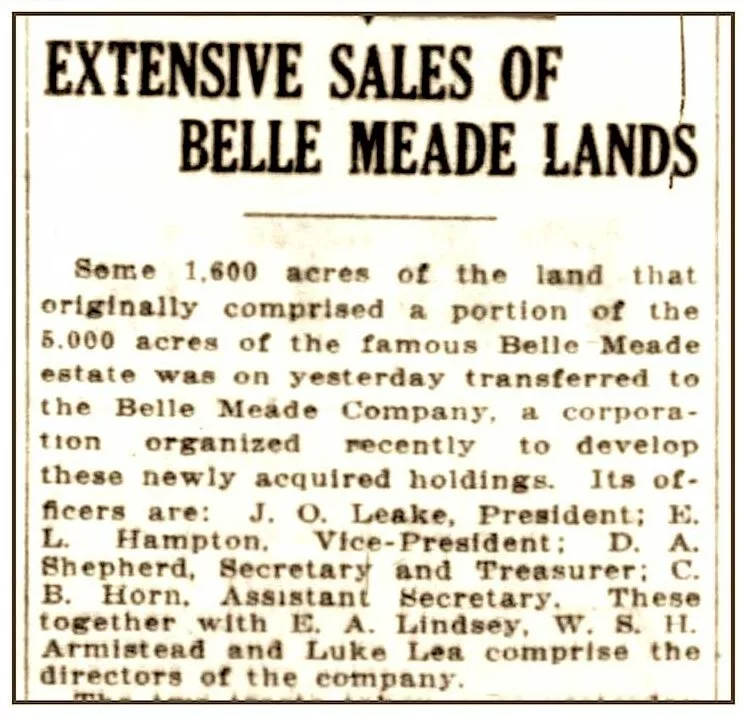 Article published in 1910, courtesy of the Nashville Public Library.
1919
Mary Warner passed away. One year later, Luke Lea married her sister, Percie Warner.
1926
Lea's second buy of Belle Meade land was 624 acres known as the "High Pasture," including what today might be called the "front door" of Percy Warner Park at the end of Belle Meade Boulevard. In 1926, Lea donated 868 acres to the City of Nashville for a public park comprising 543 acres of the "High Pasture," along with 325 acres owned jointly by Lea's Belle Meade Land Company and Warner's Nashville Railway & Light Co.
‍
On what is now the center strip of land dividing Belle Meade Boulevard, Percy Warner's Nashville Railway & Light Co. ran a trolley line that Lea hoped would attract Nashvillians to his up-and-coming Belle Meade development. As chair of Nashville's parks board, Percy Warner was able to advance his vision for a "necklace" of magnificent parks surrounding the city, advance the market for streetcar riders, as well as support his son-in-law with this deal.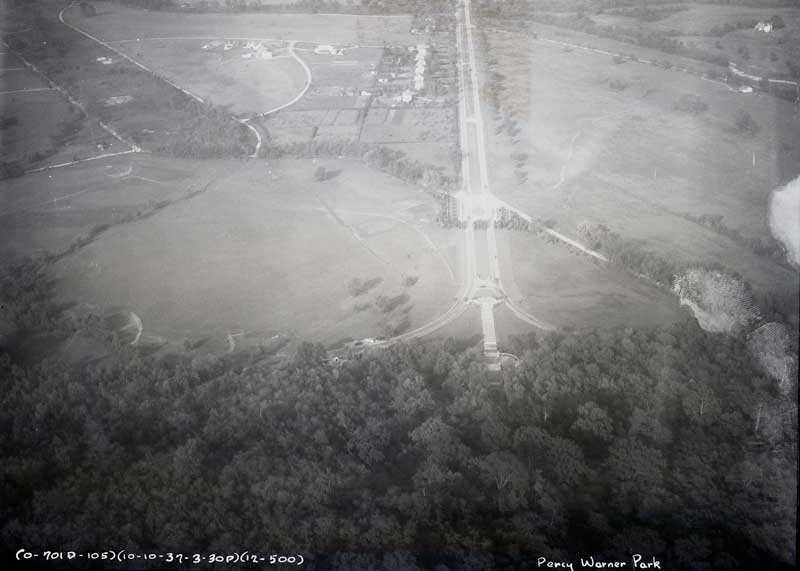 Aerial shot of Percy Warner Park in 1937, with the Belle Meade Railcar line leading straight to the Warner Parks Entrance.
1927
Percy Warner died of a heart attack just months after the unnamed park opened, and it was Lea who put forth the idea of naming the new park for his father-in-law. Percy Warner Park became an immediate hit. Boy and Girl Scouts were among the first to take advantage of its wild beauty, quickly followed by others in the greater Nashville community.
After Percy's death, his younger brother, Edwin Warner assumed a position on the parks board and began to implement a forward-thinking and aggressive plan to acquire more acres for Percy Warner Park.
1930
Through a $20,000 donation of his own money, Edwin Warner funded the purchase of additional land that had been in numerous family farms for generations, some dating back to the late 1700s. Several people sold willingly, while others strongly resisted. Imminent domain was the final leverage. The total acreage after Edwin's efforts was more than 2,600. 
1932
The Edward Daugherty Gates, underwritten by Percy's widow Margaret Lindsley Warner, were dedicated.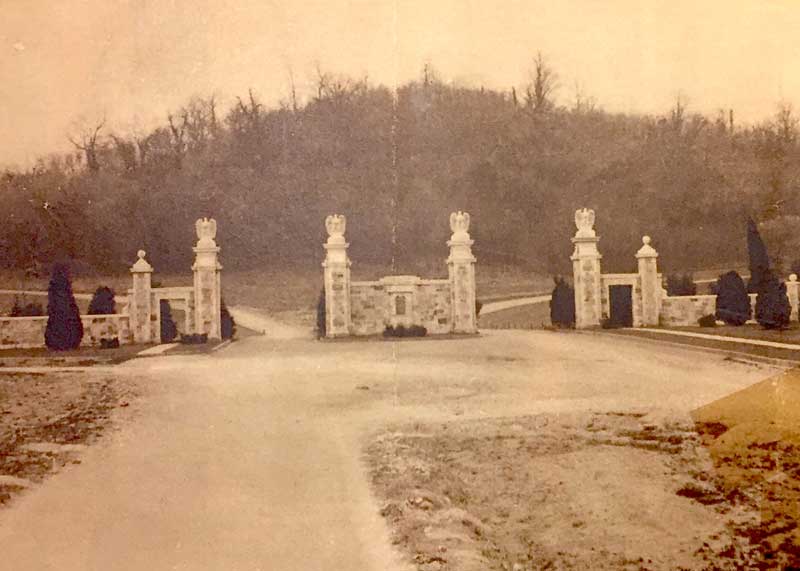 Completion of the Percy Warner Entrance Gates, 1932
1936
The famous Allée steps, designed by celebrated landscape architect Bryant Fleming, were completed as an ascending invitation into the park's hills.
Warner Parks' Eastern Bluebird Nesting Box Project was started by Amelia Laskey, a nationally-known ornithologist, to monitor nesting success of bluebirds. With 50 monitored nest boxes, it is now the oldest continuous Eastern Bluebird Nest Box project in the U.S.!
1937
In appreciation for Edwin's faithful efforts and funding, park board members designated the land south of Old Hickory Boulevard as Edwin Warner Park.
The Works Progress Administration is responsible for building much of what we've come to cherish in the Parks throughout the late 1930s and early 40s. Out-of-work Nashvillians were hired on to build the stone walls, gateways, pillars, picnic shelters, and more.
1938
This marks the first play at Percy Warner's nine-hole golf course, now known as one of Nashville's most picturesque and golfer-friendly courses.
1941
The famous Steeplechase course opened with the first running of the Iroquois. The course remains especially notable today for its panoramic view from the hillside.
1965
The 1950s and 60s marked a period of extensive Warner Parks usage. In 1965, the regionally praised Harpeth Hills Golf Course opened its eighteen holes for play. Nashvillians came to Warner Parks to horseback ride, run, hike, take leisurely winding drives, play sports, picnic, study nature, and generally absorb all that the outdoors has to offer.
1970
By the 1970s, familiarity had begun to breed a lack of respect for the Parks. Roads were full of potholes, car lights shone after hours, and dumping trash, appliances, building debris, and abandoned cars was commonplace. Fortunately, the first Earth Day in 1970 brought a renewed awareness and appreciation of the Parks and sparked public interest in preserving it.
Earth Day also provided the impetus to hire and house the first Naturalist, David Shaffer, at the first Nature Center, an adapted farmhouse near the intersection of Old Hickory Boulevard and Highway 100. Shaffer began the volunteer program in earnest that still fuels the Warner Parks today.
Warner Parks staff continued to increase. Through Dr. Charles Farrell, a retired Vanderbilt University professor whose wisdom is still quoted, a professionalism arose in those hired to maintain, interpret, and protect the thousands of acres. The course of serious scientific research and documentation was set, and an emphasis on birds came into focus amidst myriad other studies.
1982
The Warner Park Bird Banding Station began with support from Master Banders and local ornithologists Dr. Katherine Goodpasture, Michael Bierly, Dr. Ann Tarbell, and Dr. Charles Farrell.
1984
Percy and Edwin Warner Parks earned status with a listing in the National Register of Historic Places.
1987
Clare Armistead undertook the formation of a neighborhood citizen support effort. Inaugurating a family tradition of park allegiance over generations, Edwin Warner's grandson, E. Warner Bass was the first chairman of the non-profit Friends of Warner Parks (FOWP).
Although Metro Nashville Parks and Recreation continues to maintain ownership of the Park acreage, Friends of Warner Parks mission is to preserve, steward and protect Percy and Edwin Warner Parks. This public-private partnership leverages both taxpayer dollars and charitable contributions, accomplishing more than either entity could separately.
2000
Evidence of the power of public-private collaboration, The Warner Parks Nature Center was built through a private capital campaign and government partnership, expanding the vital educational aspects of the Warner Parks and becoming a premiere institution of environmental education.

A view of the Nature Center building
2009
Friends of Warner Parks acquired Hill Forest and the Burch Reserve, preserving and protecting an old growth treasure and bringing the Warner Parks' total to 3,187 acres, an astonishing figure for an urban park only 9 miles from our city core!
2020
Friends of Warner Parks invested over $3 million in the preservation and restoration of the Belle Meade entrance, Allée steps, and historic picnic shelters built by the WPA. Once a training ground for soldiers and now the site of our World War I Memorial, the entrance and Allée stonework was carefully restored as part of our It's My Nature Campaign.
Stay in Touch With Your Friends