Founded in 1991, The Warner Parks S.W.E.A.T. (Special Work Education and Trails) Program employs hard-working summer and winter crew members to maintain and improve Warner Parks trails, facilities, landscaping, and natural areas.
S.W.E.A.T. is now one of the longest-running programs in Warner Parks and has become a model for stewardship and conservation efforts within our local community. For eight weeks, the crew manages the essential, albeit not-so-glorious work necessary to preserve our Parks– helping to remove graffiti, rake trails, move rocks, clean bridges, paint facilities, plant trees, and more.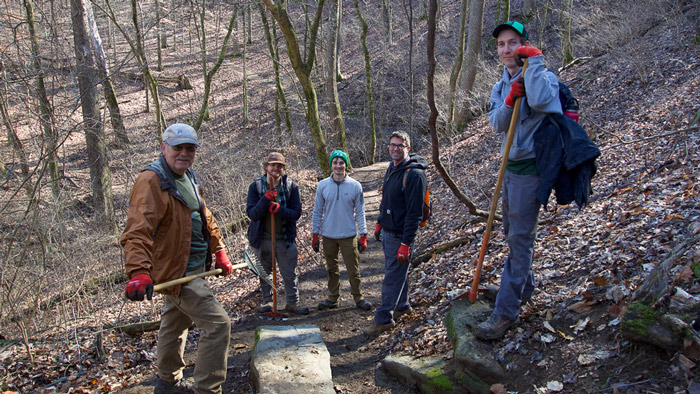 The Team
From Hawaii to Texas, Bellevue to Greenbriar, our Winter S.W.E.A.T. Crew Members come from all over the U.S. and bring a wide range of experience to their work here at Warner Parks. Jereomy Hornbuckle, the Team Lead, has worked with S.W.E.A.T. for three consecutive seasons.
"Being able to help guide and teach a group of hard workers (though oftentimes they were teaching me) about the park and what SWEAT aims to accomplish, truly made this an experience I will always cherish."

– Jereomy, Reflections on Summer S.W.E.A.T. 2022
We are so thankful for this team's passion, determination, and devotion to this landscape. In fact, we often find ourselves asking, "Where would we be without S.W.E.A.T.?"
This summary of work completed in the first few weeks of S.W.E.A.T. further proves our point:
Week 1
Armored muddy areas and stabilized trail along the Warner Woods Trail, Mossy Ridge, and Chickering Connector, Nature Trail Loop, StoryWalk Trail
Cleaned out culverts at Tornado Road and Chickering Trailhead Connector
Cleaned signage and informational kiosks at all trailheads, the Knight Cemetery
Invasive plant removal at Beech Woods Picnic Area, Luke Lea Heights, along the Little Harpeth River
Litter cleanup along Harpeth Hills Golf Course, Old Roadway in Edwin Warner, Burch Reserve Parking Area
Cleaned and sealed bridges in Edwin Warner Park behind the dog park and along the ridge top
Planted trees along Beech Woods Picnic Area and native wildflowers along Vaughn's Creek
Insulated the Historic Well House at Chickering Road Entrance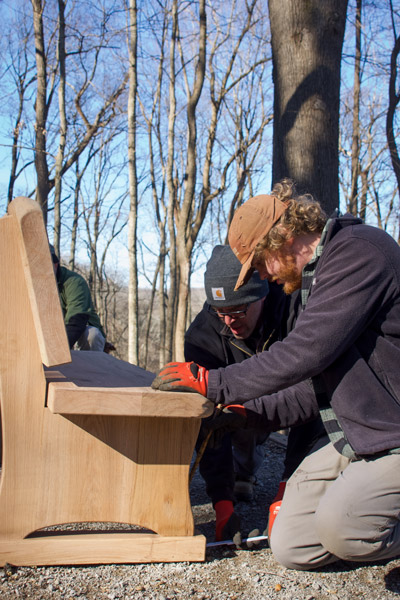 Week 2
Removed fallen tree hazards from Burch Woods Trial, Warner Woods Trail, and the bird blind in Percy Warner Park
Replaced directional post sign infested with carpenter bees
Transported stone to repair pillars along Old Hickory Blvd and at shelters in Edwin Warner Park
Dismantled vandalized wildlife tracking station
Picked up litter along Old Roadway Loop
Installed high-quality stepping stones along wet trails in Edwin Warner Park
Invasive plant removal at Beech Woods
Armored trail in wet areas in Buggy Bottoms
Planted 70 native trees in Beech Woods Picnic Area
Transported and spread mulch along the banks of the Little Harpeth River to repair mulch rings
Drained and repaired bird water feature at Nature Center
Painted Nature Center bannister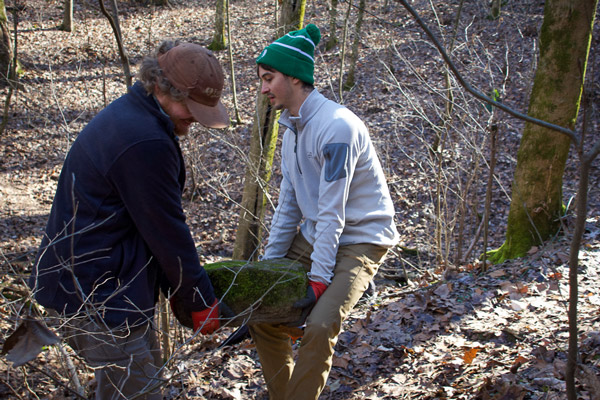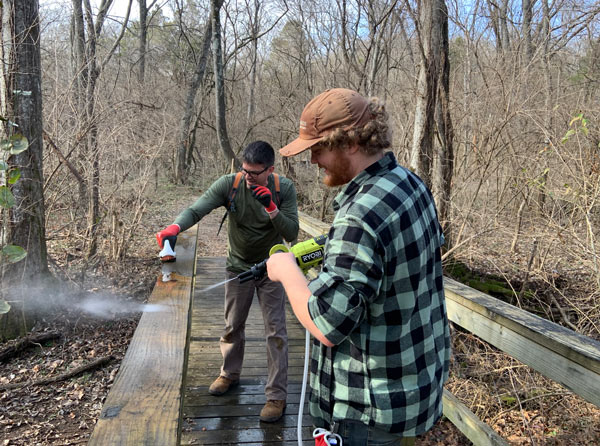 Week 3
Stewardship and maintenance of Mossy Ridge Trail, Cane Connector Trail, 1.6-mile loop along Warner Woods Trail, and Lodge connector trail
Armored muddy areas along Warner Woods Trail, Nature Loop, and Harpeth Woods Trail
Cleaned out culverts and roadside drainage channels
Litter pickup along Page Road in Percy Warner Park
Invasive plant removal along Chickering side of Percy Warner Park and at Beech Woods Picnic Area
Maintenance and upkeep of Page Cemetery
Painted new Nature Center signs
Cleared graffiti on Talley Bluff, Edwin Warner Park Picnic Shelter #6, Dripping Springs overlook
Invasive plant removal at shelters 7 & 8
Re-mulched 80 trees along the Allée, Steeplechase, and Palmers Grove
Installed memorial bench along Dripping Springs overlook
Removed old posts at the old low ropes course
Sealed bridge along the Old Roadway connector trail in Edwin Warner Park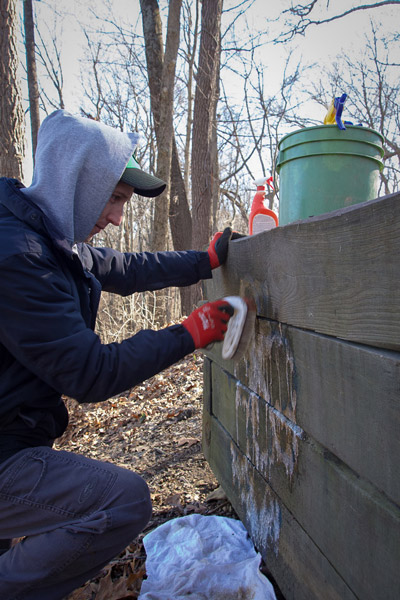 This team has been working HARD to preserve the natural, historical, and cultural integrity of our Warner Parks. If you run into them on the trail, make sure to stop and say thank you!
To support the S.W.E.A.T. Program, consider giving a one-time donation, becoming a monthly recurring member, or becoming a corporate sponsor.