The Warner Parks have long benefited from the hard work and generosity of the scouting community. Both Boy Scouts and Girl Scouts have contributed to the sustainability of our resources and improvements to the recreational experience in Warner Parks, evidenced throughout these 3,100+ acres.
With the unique opportunity to plan and implement a project in Warner Parks, these young people are able to improve outdoor experiences for their local community and also help us address some of our more challenging Warner Parks projects. We are so proud to have a role in this partnership!
The tradition of scouting in the Warner Parks traces back several decades and is still strongly represented by projects completed just as recently as last weekend. Over the course of the last several months, scouts have been hard at work to make improvements in our Warner Parks. Some of some recent projects include: restoration of native plant communities along the riparian buffer of the Little Harpeth River, replacement and enhancement of trail bridges along the Natchez Trace section of the Harpeth Woods Trail and in the lower section of the Burch Reserve, construction of timber box steps at trail crossings along the Nature Loop Trail, as well as crafting and installing three new primitive cedar benches at select trailside locations in Edwin Warner Park. In addition, scouts from Girl Scout Troop 1472 even organized a tree planting event and planted over 1,000 trees during their time in Warner Parks!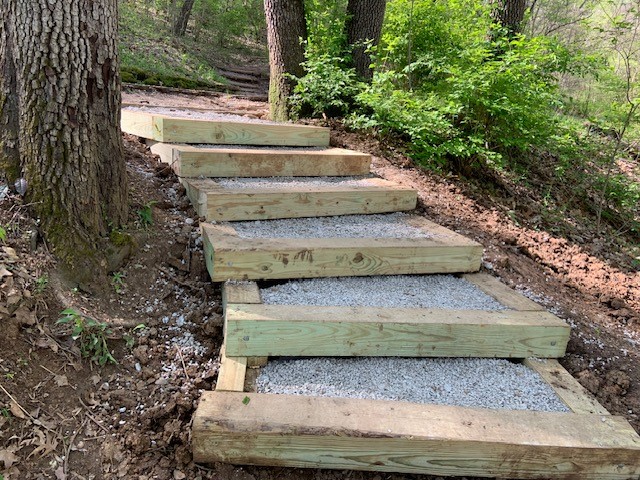 We hope that our friends in the scouting community continue to play an important role in crafting the ongoing legacy of these treasured Parks. We are excited to be in the planning phase for new projects to be unveiled soon and are always looking to connect scouts with opportunities that help them along their journey (and help Warner Parks in return!).
If you have any questions or would like to get involved with a scout project in Warner Parks, please contact our Director of Resource Management, Paul Fowler.
We look forward to many more scout projects to come!